Involved in a Pedestrian Accident?
If you have been injured in a pedestrian accident, caused by a negligent driver, you have a right to recover all your damages from the driver at fault. Please call me to discuss your case. I can help you.
Michael Black – Fighting for your Rights!
When your legal rights are at stake, you need someone on your side to fight for your recovery and your future. If you are seeking a San Diego lawyer who provides quality legal service and who treats his customers as valuable clients, then you have arrived at the right place. I am a San Diego attorney that understands the complications that can arise in a case like yours. As such, I work meticulously to protect your rights during the entire process. I have successfully represented numerous clients throughout San Diego County and can help you too. Call 1-619-206-2056 or email michaelbblack@yahoo.com to schedule your free confidential consultation. Remember there is no obligation.
Involved in a Pedestrian Accident?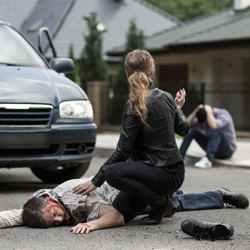 "Very polite and helpful! I had no attorney and called for advice, Mr. Mike Black helped me and told me what I should do. He is a very nice person and I will tell all my friends to call Mr. Mike Black when they need an attorney." Michael B. Black
Licensed for 14 Years
State Bar of California
License # 236848
Su abogado en español
Law Office Location
2220 Otay Lakes Road
Suite #502-217
Chula Vista, CA 91915
T. 619.206.2056
E. michaelbblack@yahoo.com